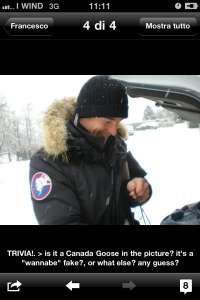 SOLUTION> TRIVIA: Is it a CG in the picture? or a fake or What else?
Here the full(short) story:
Here in italy there is a brand called MUSEUM that at the firsts of 2000 starts to import the Canada Goose from Canada  and replacing the labels ( keep mentioned in the inside label the CG orign)  the brand grown and now they realize by themselves  good quality coat and parka ( not the same good quality of CG!)  with the Museum Brand .. a different style ( more WASP)  http://www.museumtheoriginal.com/ and no more connected with CG
So.. well done! some of you where right. a vintage CG imported in Italy and sold as a different brand..
— it's from that label that I've  discover CG, called and find a dealer next to me ..
here some pics of the fur

see ya!